Universal challenges.
Concrete answers.
High performance. Sealed reliability. Intuitive userfriendliness. The all new Husqvarna range of floor grinders mean business. These robust, compact grinders are designed and engineered to handle everyday challenges with confidence, power and an unmistakable sense of ease. Letting you focus on your work.
Introducing an all new range of floor grinders
Available now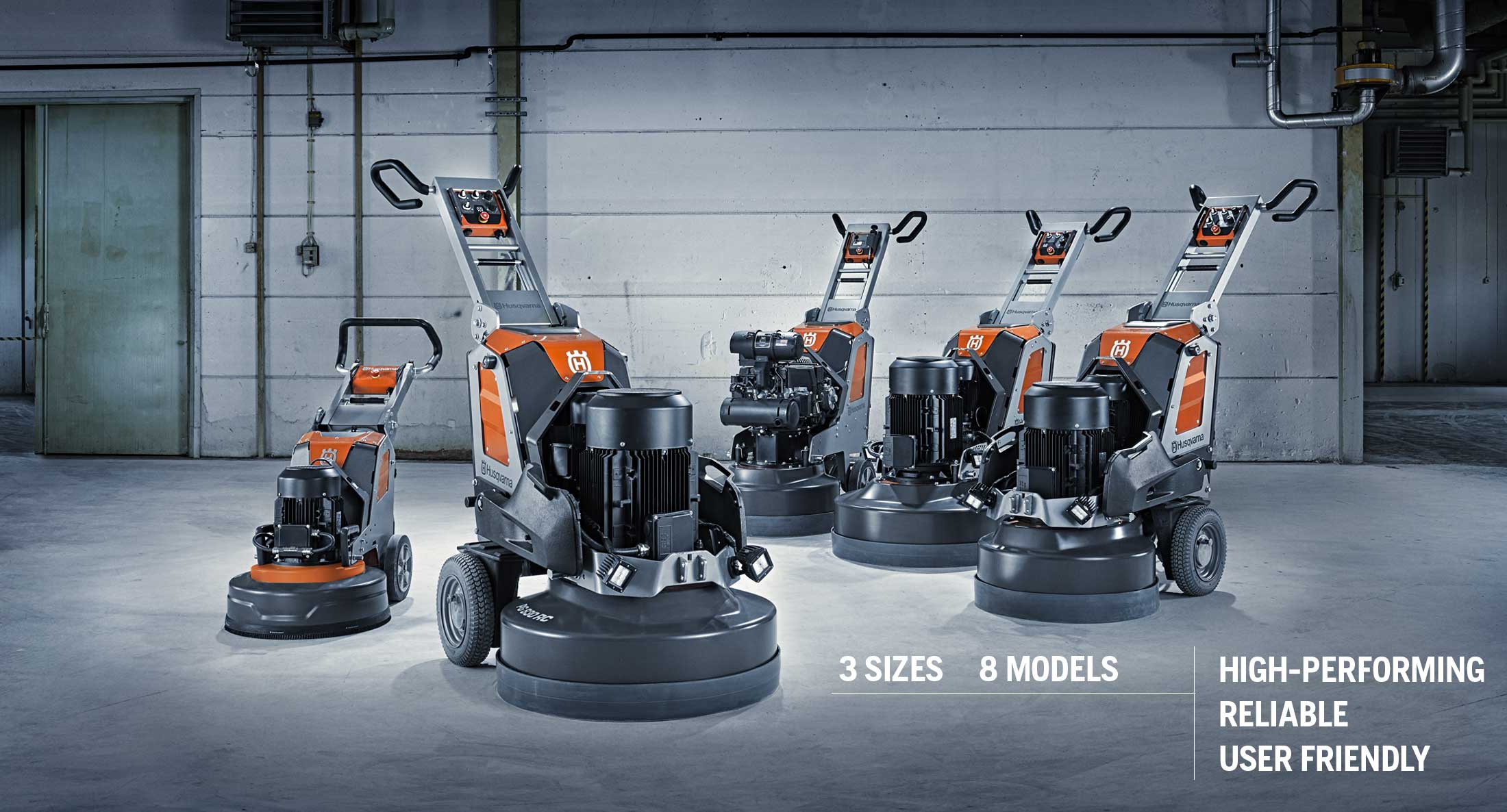 Explore the machines in 3D
Use your phone or tablet and click on any model to project the machine in your own environment.
TIP: Take a screenshot of your own AR-experience!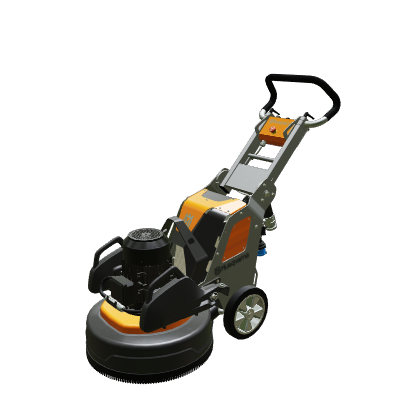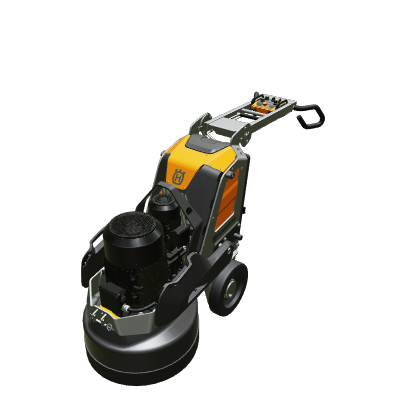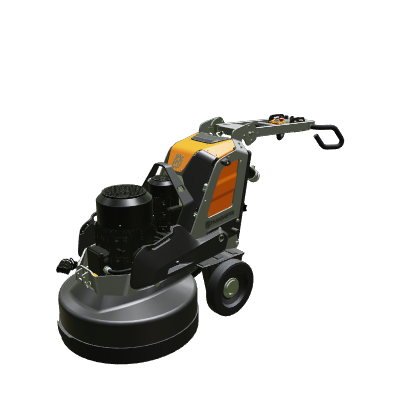 Because everyday challenges need concrete answers
High performing, reliable and user friendly. Watch our product presentation video to explore all new and improved features, benefits and technologies that make the new Husqvarna PG range stand out as a perfect answer to your everyday challenges.
Get the most challenging jobs done.
More powerful than ever, the new range of Husqvarna grinders delivers outstanding performance in all conditions. This means you can get the job done faster and with higher precision.
Enhanced Dual Drive
Husqvarna's unique Dual Drive Technology™ has now even higher disc speed capabilities. The new, robust design allows the grinder to work harder and longer, so you—as the experienced professional—don't need to.
Tailor your performance
Dual Drive Technology™ enables you to individually control the speed and direction of the disc rotation and the speed and direction of the grinding head.
No more ridges
Oscillation function for flatter floors and ridge elimination.
Grind close to wall
Stable propulsion and edge precision for even greater close-to-wall grinding performance.
More power
New top-of-the-line 15 kW / 20 hp motor means power is up by up to 36%*

* Compared with previous 11 kW / 15 hp motor.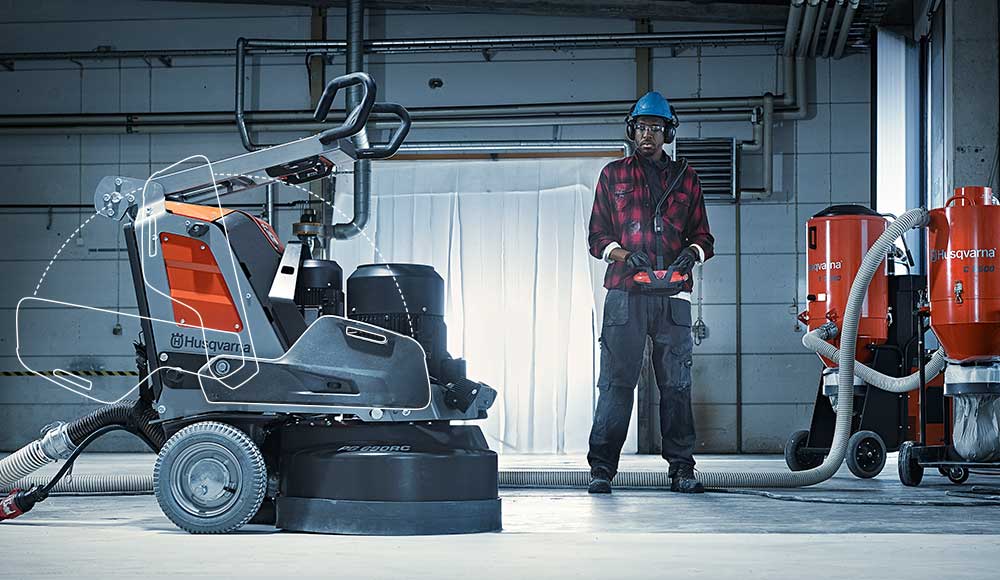 Adjustable grinding pressure
Integrated weights* allow you to increase and adjust your grinding pressure. They also make tilting the machine that much easier.
*Available as an option.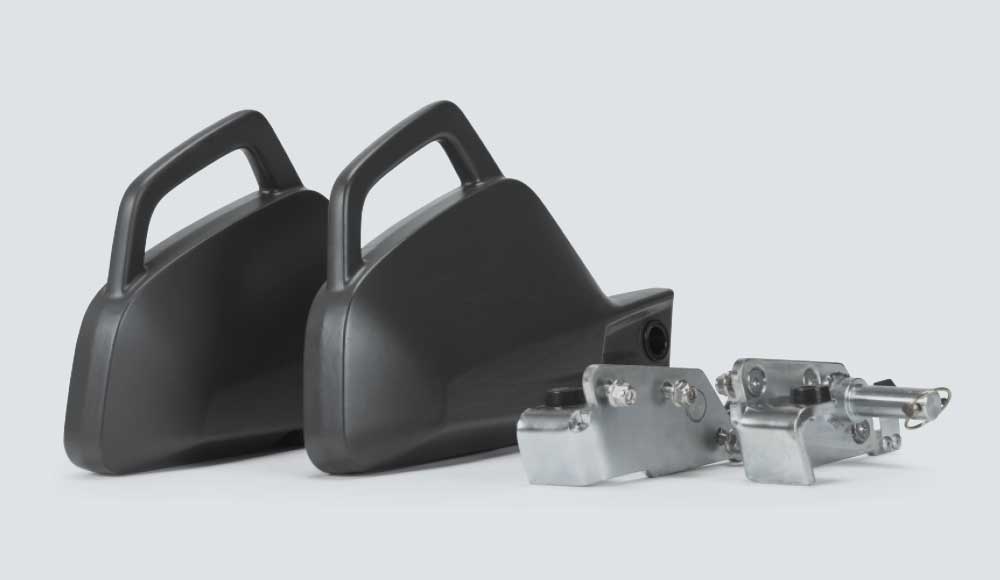 Adjustable weights
The optional weights are a must-have for every professional grinder, as they allow adjustment of the grinding pressure in three pre-set positions. They also make tilting the machine that much easier.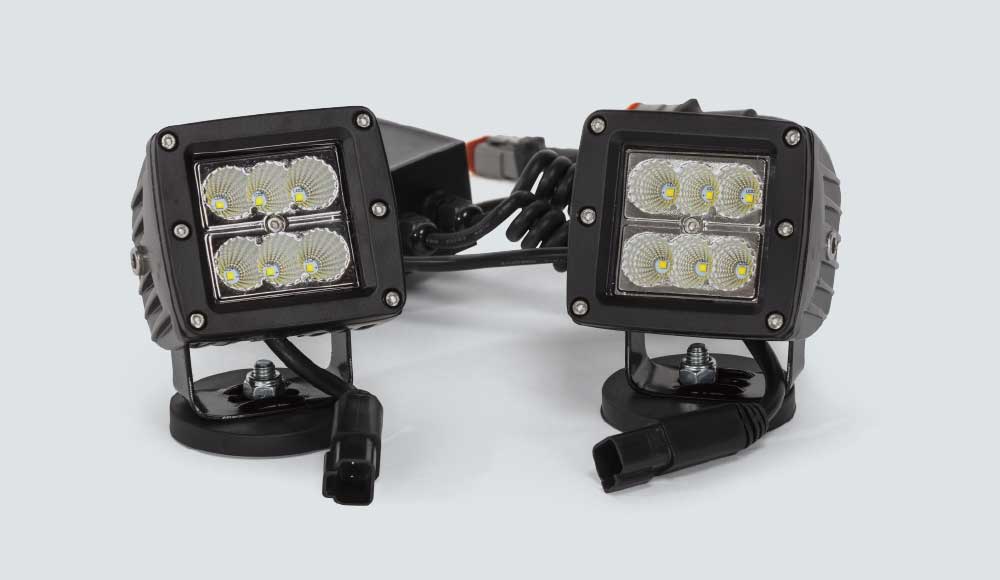 Magnetic LED lights
The optional light kit substantially improves visibility of the floor while you grind. Thanks to magnetic attachments, they are easy to position and adjust.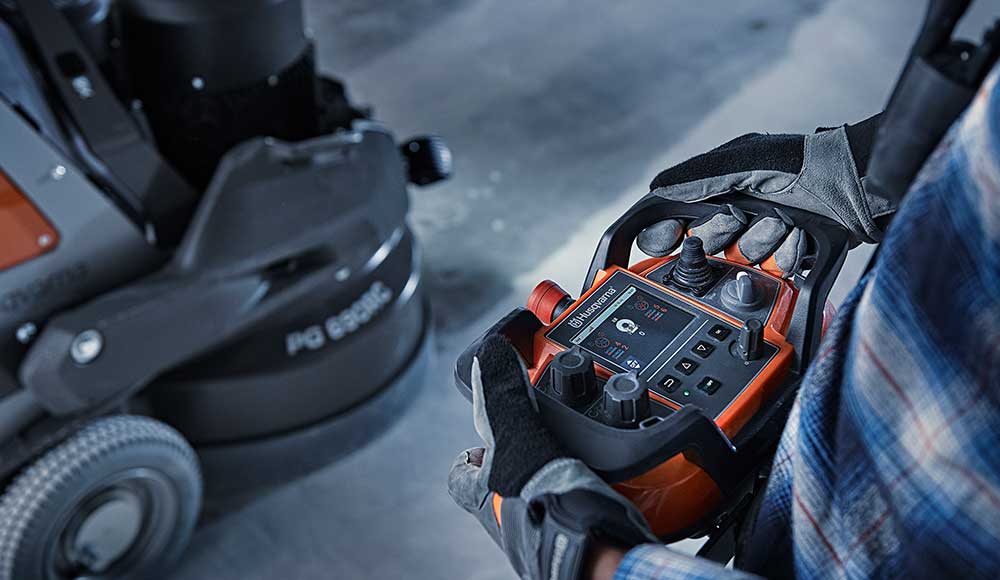 Intuitive control
Lighweight, robust, responsive and easy to operate. The remote offers full control at your fingertips.
Case and shoulder harness are included, waist belt is optional.
Remote display for key machine status
All the key status indicators are displayed in a pedagogic and straight forward manner.
Grind more, in less time
Up to 40% productivity increase when using remote option vs. push grinder.
Robust design and sealed components for maximised uptime.
Challenges are many. Worrying about your equipment should not be one of them. The new Husqvarna PG range is designed to protect its vital components from dust, slurry and heat. For maximised reliability and uptime. And your peace of mind.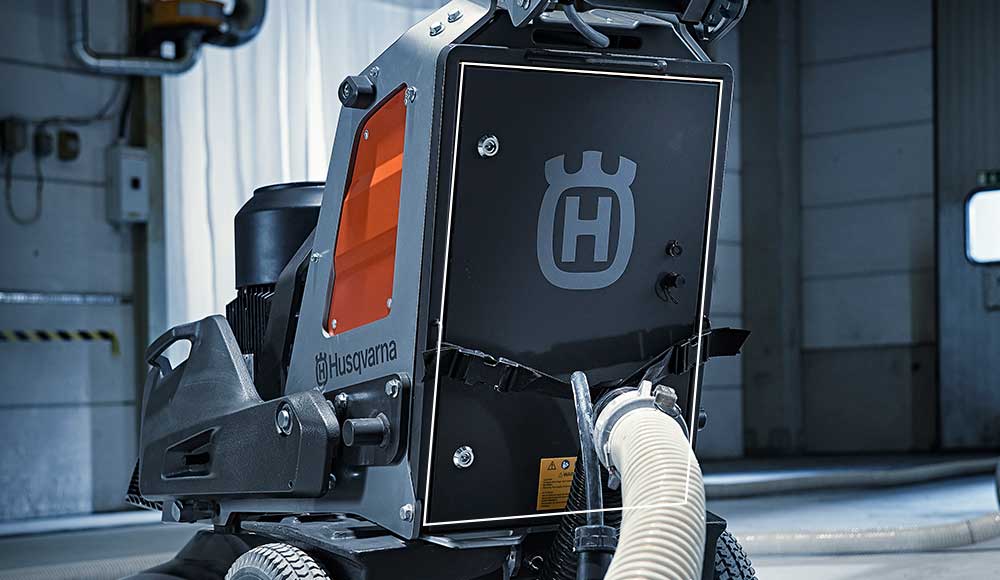 Protected electronics
Dust sealed electrical cabinet with external cooling technology.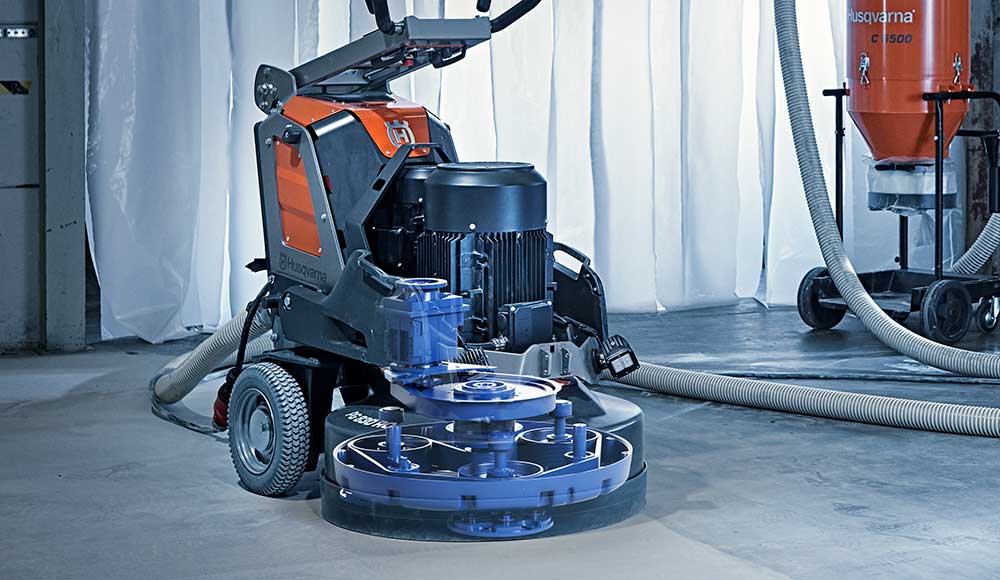 Less maintenance, smooth operation
Re-designed Dual Drive Technology™ transmission, fully sealed against dust. Self lubricating drive chain.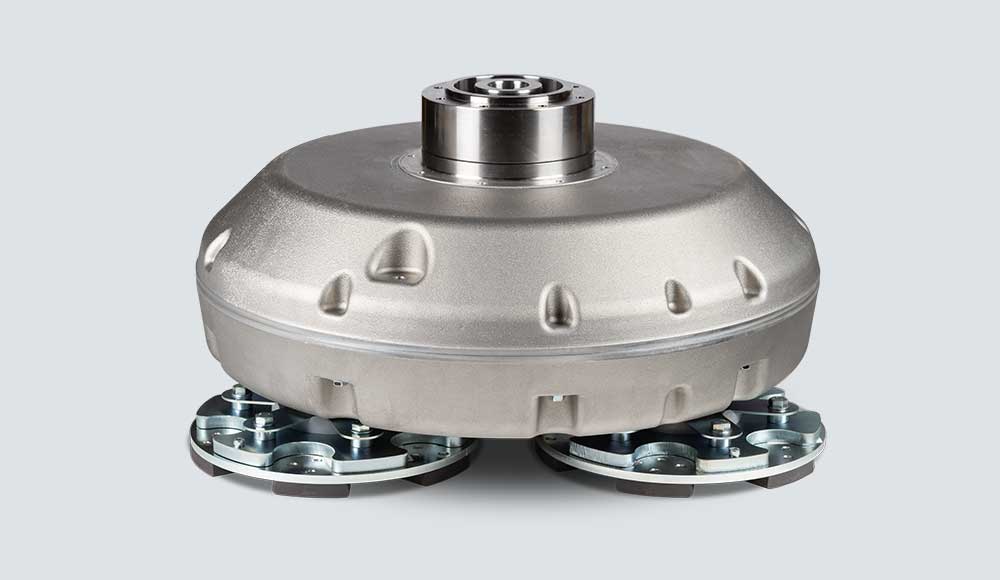 Sealed to last
Sealed grinding head with 1000 hrs service interval. No dust or water can intrude to damage components.
Brings out the best of every work day.
Easier to tilt, transport and manoeuvre, a more compact design and a series of smart features. The new Husqvarna grinding range is designed to work with you, not against you. This speeds up the learning curve for newcomers and lets the experts get the best out of every floor.
Always in control
The control panels in the new range are completely redesigned to offer more control and feedback, even with gloves on.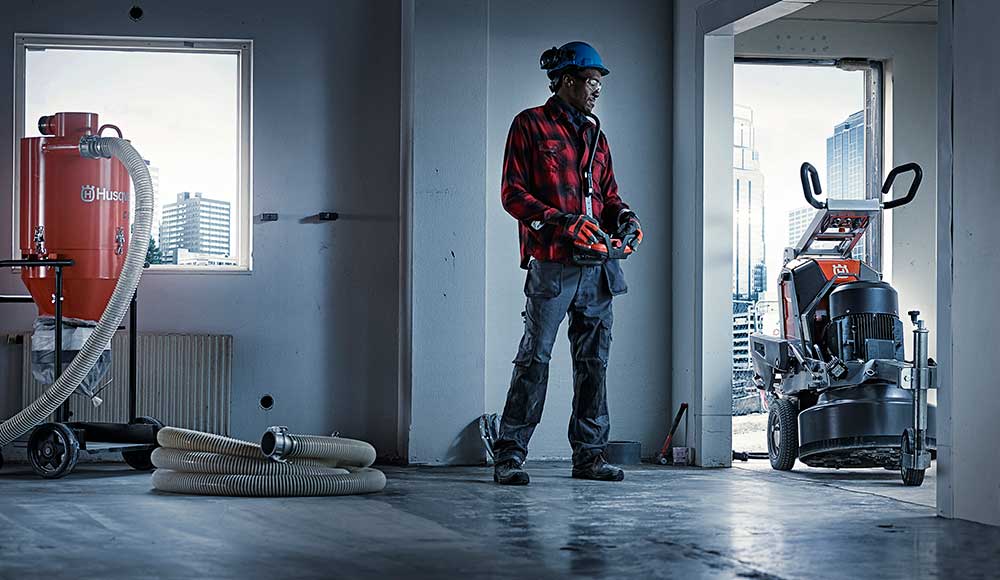 Fits through a standard door
Power in a tight package. Your PG 540 and PG 690 grinder is designed to make it through most standard doors. Transport wheel for RC models.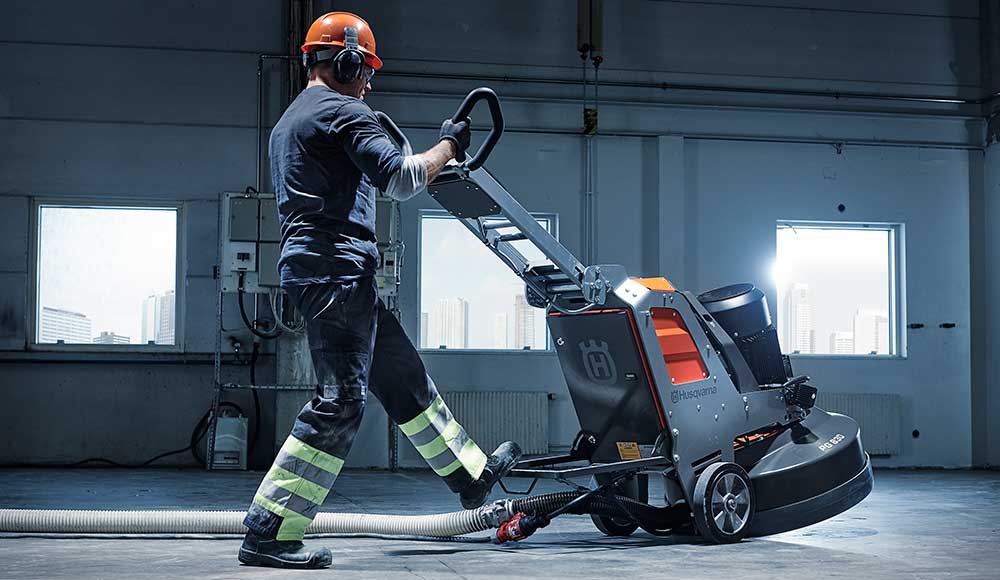 Easy to tilt
Foldable kick-bar for easy tilting.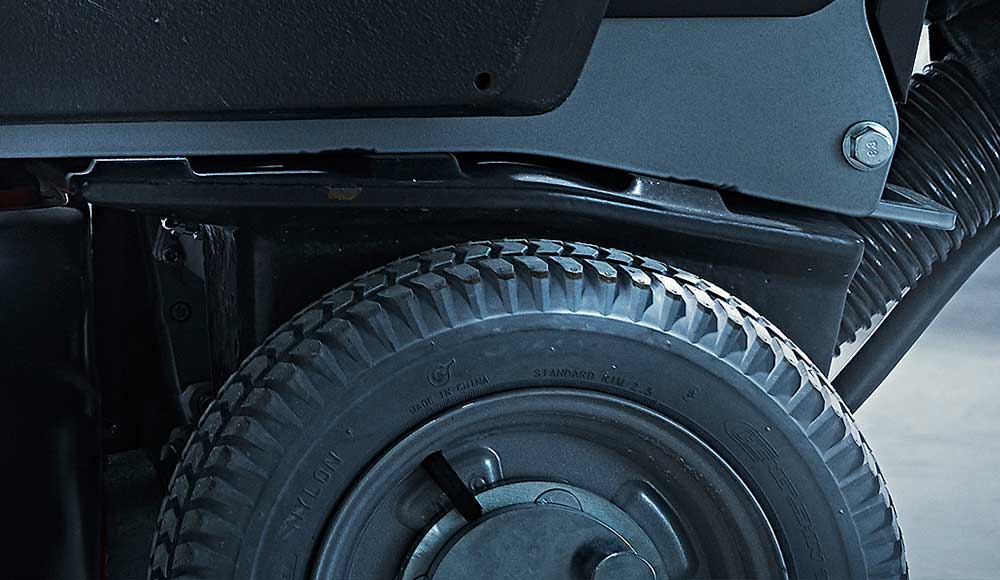 Easy to transport
Robust suspension and large wheels for easy transport.
Lift and transport
The new range features heavy duty lifting and transport anchoring points.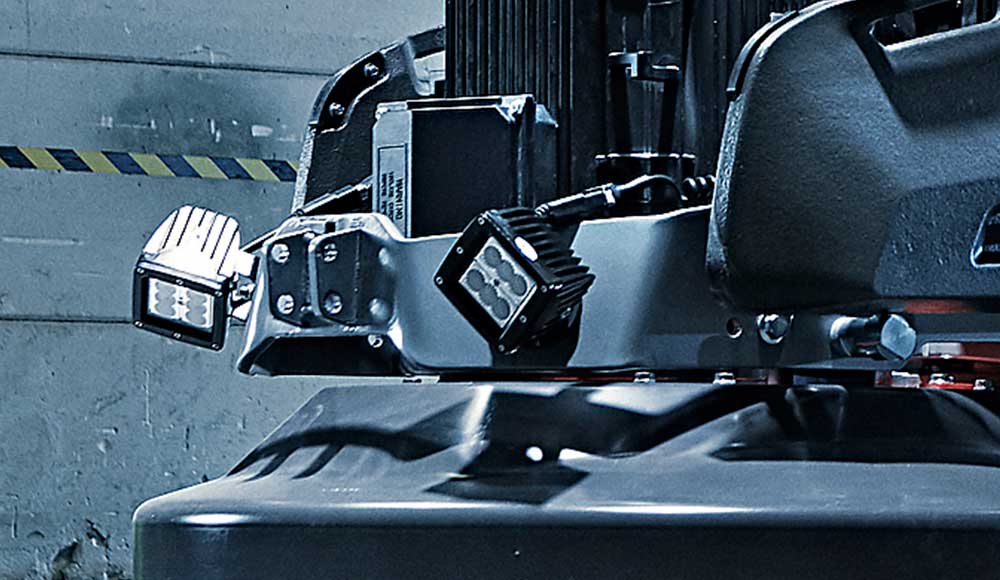 Easy to work with
Magnetic LED lights.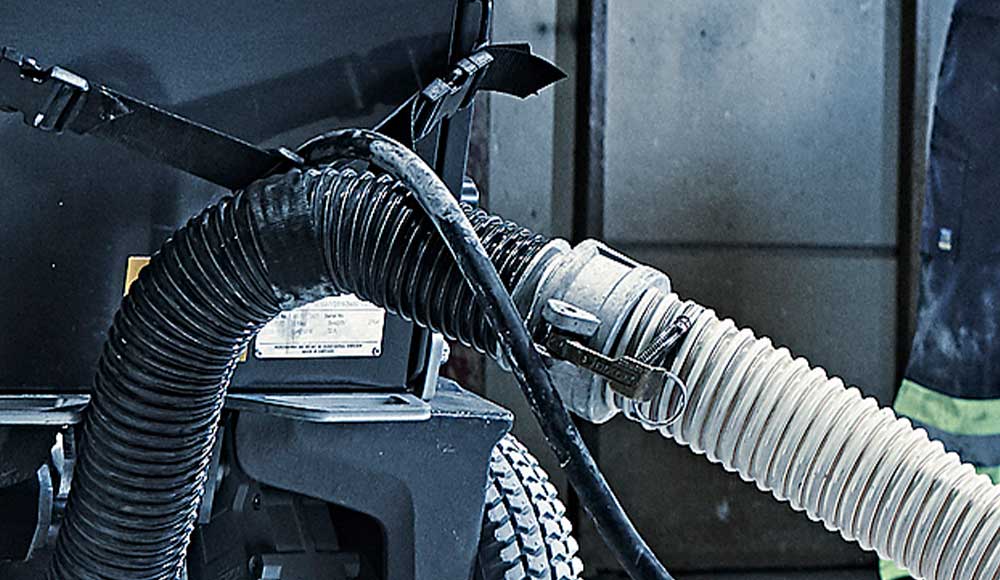 Smart hose control
The dust extractor hose is easily managed and kept out of the way during operation.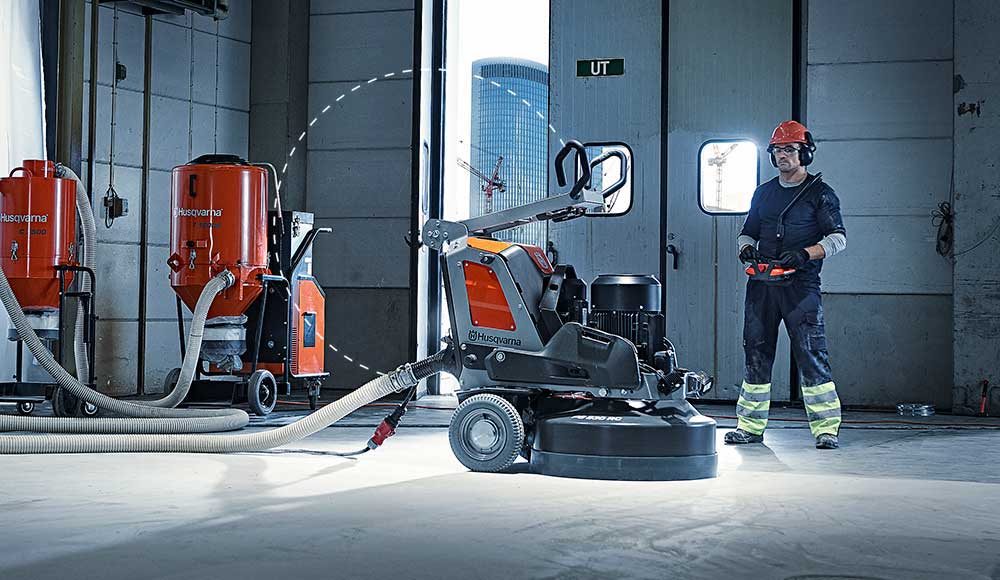 Adjustable handle for better ergonomics
Any operator, regardless of size, can find a suitable handle position.
Experience full flexibility and efficiency in an all-Husqvarna setup.
As a Husqvarna customer, you're always able to leverage our global support, expertise and proven methods.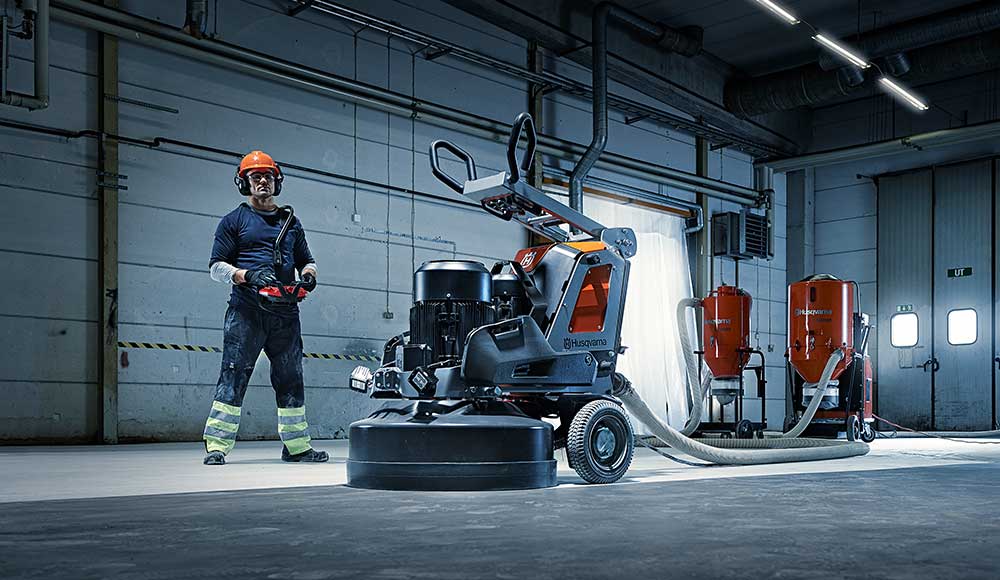 Methods and know-how
As a Husqvarna customer you can always tap into a vast source of global expertise and experience.
We also advise all customers to look into the HIPERFLOOR® complete concrete surface polishing system. It enhances the beauty, strength and abrasion resistance of concrete floors while reducing maintenance and costs.
HIPERFLOOR® is available in three distinctive surface finishes: Premium, Commercial and Industrial. Each finish has a well-defined specification for the working process and selection of grinding/polishing tools and chemicals.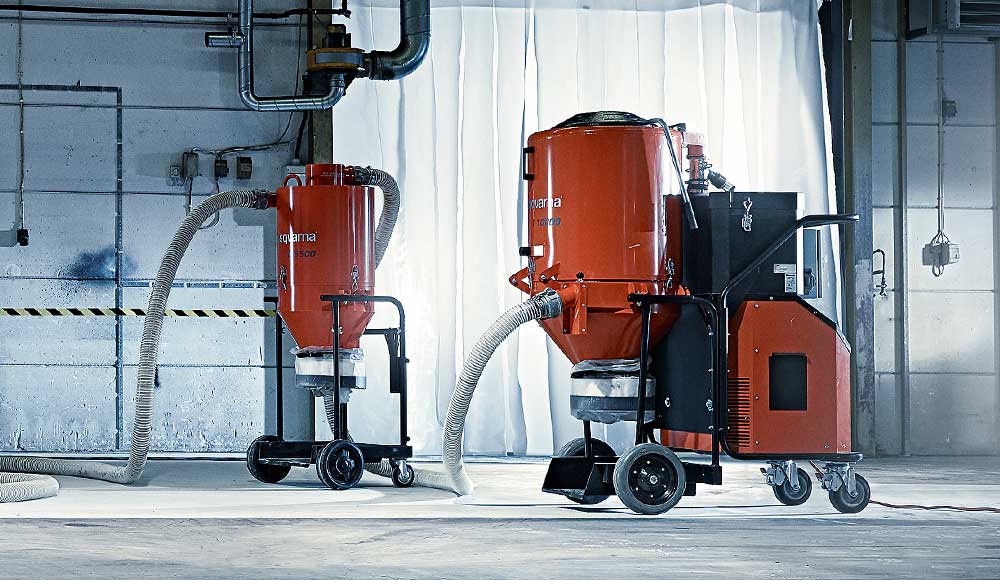 Dust extractors and pre-separation units
Every breath counts. The right dust extractor will enable longer grinding passes, cooler tools – and – a safer work environment for the operator. Also, it will minimise the post-grinding clean up.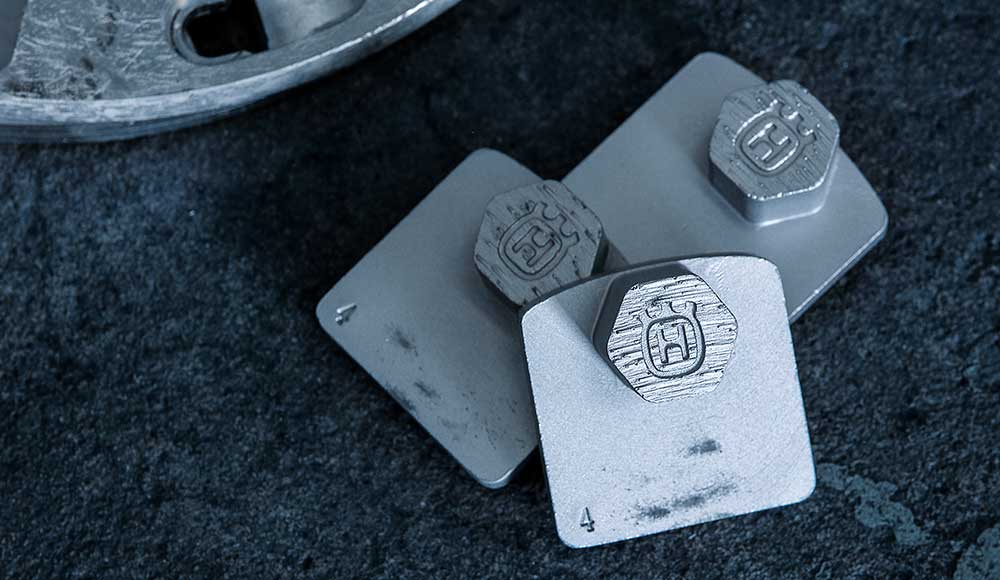 Husqvarna original diamond tools
Husqvarna offers a complete range of professional grade diamond tools for every step in your grinding and polishing process. We have the perfect choice for every finish level and any surface: from the hardest to the most soft and porous concrete imaginable. The tools are fitted fast and easy with the Husqvarna Redi-Lock® system.
Minimise downtime. Maximise the results.
Husqvarna is a partner you can trust. With our global network of application specialists and service partners, we support you in your floor grinding and polishing projects. We have also developed a series of services dedicated to making your work day as efficient as possible.
Global service network
Husqvarna offers a global service network with a strong local presence. When you need a diamond tool, new equipment, technical service or expert advice, our service is just a phone call away.
Financing
Husqvarna UpFund offers financial solutions designed to meet the needs of professionals in the construction industry. Our financial solutions make Husqvarna equipment easy to acquire and rewarding to use. Offers may vary between markets.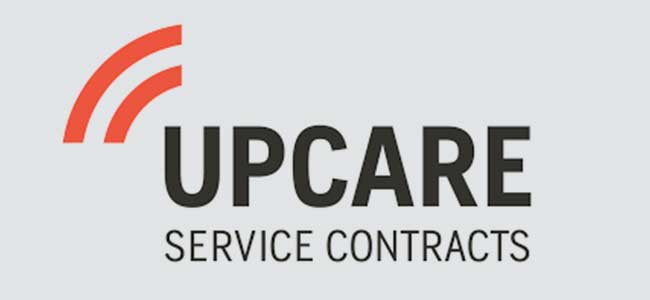 UpCare
Maintenance and repairs are a natural part of any operation. But scheduling and keeping track of service times can be time consuming and often result in unwanted costs as well as unplanned downtime. UpCare is a fixed-price service agreement that will give you security and peace of mind, allowing you to achieve better long-term planning with less paper work.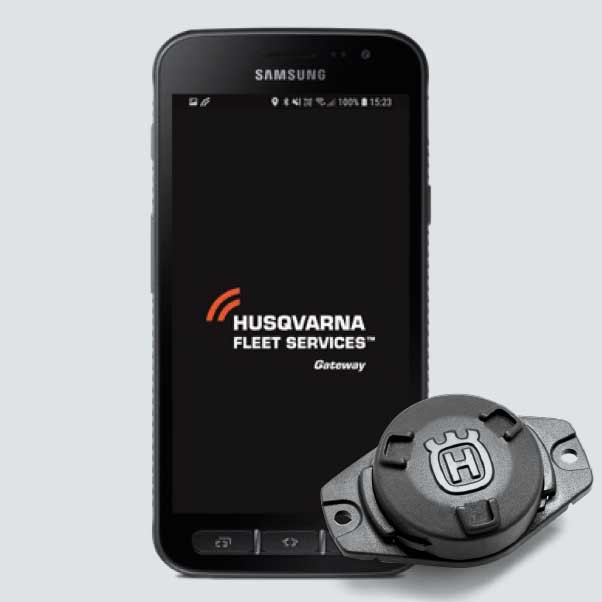 Fleet ready
Husqvarna Fleet Services™ is a digital, cloud-based asset management service that gathers and presents key machine data such as run-time, location, and service interval alerts. Machine sensors are either embedded or retrofitted to the exterior of the machine. Embedded machines, like the PG 830 RC, even present valuable machine health data like machine overload via the service's Operation Insights module. Husqvarna Fleet Services™ will help you to make better decisions and unleash the full potential of your operation's productivity. All data is conveniently displayed in your Husqvarna Fleet Services™ web portal or mobile app. Connect Your Fleet to Stay in Charge!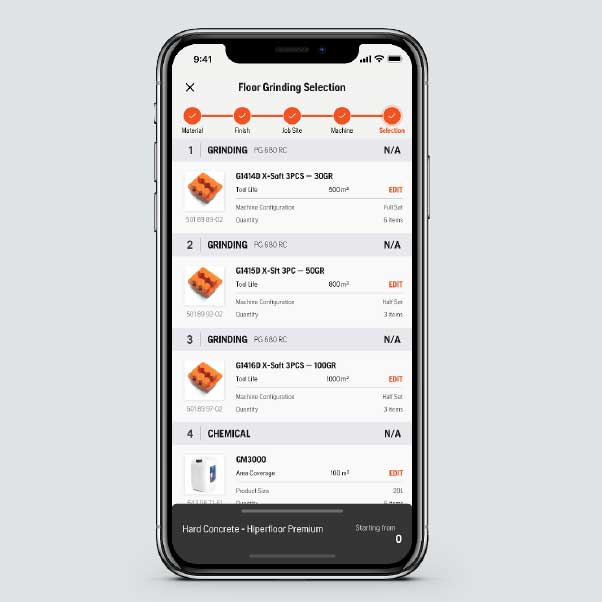 Husqvarna tool selector app
Through the Husqvarna Diamond Tools Selector app, you will now be able to save valuable time and find the right equipment for the right job, every time. By using the app to calculate a complete list of diamond tools and chemicals needed, you'll be able to do fast estimations and answer quotations quicker. Available for download and use by registered Husqvarna customers.